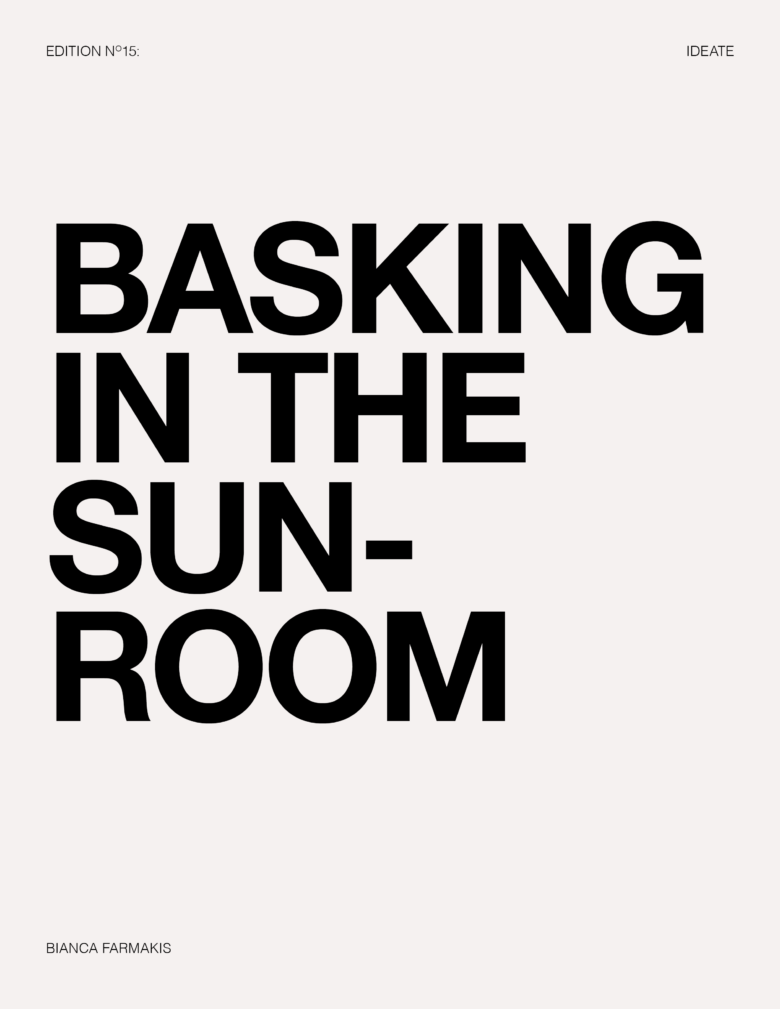 BASKING IN THE SUNROOM BY BIANCA FARMAKIS
In its infancy, social media presented an idealistic mecca of unprecedented connectivity. A decade on, the glaring shadows with Silicon Valley's vision has shed a light for newcomers to foster a solution. In the face of unjust de-platforming and censorship comes Sunroom, an app centring self-expression in its algorithms and re-injecting humanity back into the virtual world. From the minds of dating app brain childs Lucy Mort and Michelle Battersby comes a platform addressing the challenges women face, with female-led innovation.
The mantra "sex sells" was quickly dispelled when Instagram enacted harsh censorship laws placing a stranglehold on all sex-based (and at times, adjacent) content in December 2020. Tie that in with the red tape TikTok fastened around its content sharing platform –  including conversations around female health, pregnancy and the body positivity movement – and creators quickly found them in a tighter stranglehold than the Miu Miu belt skirt's grip on the fashion trend cycle.
The hoodie-clad heads behind the social media giants fell under an increasingly glaring microscope, with a chorus of users and creators claiming such moves to make the platforms "safer for everyone", likely to have actively harmed more people than it helped.
It was in the shadows of such a harsh light the sparked Sunroom: a female-led, sex positive, subscription-based platform, built on an ethos of fostering authentic, closer connections within online communities, and refocusing human eyes behind each post, each comment and each push notification on the app.
Launched by former Hinge and former Bumble powerhouses Lucy Mort and Michelle Battersby, the app seeks the fill the gap between Instagram and Only Fans – where productive conversations are rewarded monetarily, trolling becomes redundant and unfair censorship falls to the wayside.
"We spoke to hundreds of creators and the same issues kept coming up – a lot of body positive activists and creators of colour reported that they're constantly facing unfair moderation for their posts," CFO Michelle Battersby says, reflecting on the lead up to the app's launch.
Collaborating with a core group of 100+ creators in the development process, the pair conducted a series of interviews with seasoned influencers, all of whom, CEO Lucy Mort adds "had a story" that uncovered the vicious cycle of de-platforming on traditional social media.
"It was either unfair and inconsistent moderation, or it was trolling and abuse," Mort explains.
"That was a real dark side to the research that we were doing. We kept hearing people who existed in larger bodies were taken down, professional sex educators were banned, and women and non-binary people either faced constant restrictions or a lot of trolling online."
The critique of AI censorship on social media has been brewing for years, but reached a fever pitch when model Nyome Nicholas-Williams called into question the regular removal of images of people of colour and plus-size bodies online, after her semi-nude campaign shot was taken down on Instagram in 2019.
Nicholas-Williams argued, "algorithms on Instagram are bias against women, more so Black women and minorities, especially fat Black women."
"When a body is not understood I think the algorithm goes against what it's taught as the norm, which in the media is white, slim women as the ideal."
The pervasiveness of the problem rapidly mutated to affect sex workers, sex educators and creators that openly discussed female health, as content that discussed menstruation, pregnancy, or even featured art with nudity in it was banned for "violating user guidelines" or "promoting violence" under the strict regulations.
In the same length, pro-eating disordered content and misinformation about coronavirus found a place to flourish across the platforms, as the toxic content reached over the hundreds of millions of posts throughout 2020.
The misaligned algorithm though presented an opportunity: to reinject real human vetting into what appears online. It was a mountainous task, both Mort and Battersby agree, but one integral to combatting the pervasive problem.
"There's a human judgement call behind everything that is posted on Sunroom – whether that's creator's videos and photos, profiles or comments made," Mort explains.
"The issue is, you can't monitor human folly or behaviour with just an algorithm – without human beings actively being involved in what is and isn't safe online, we just get the same issues of past social media apps as before."
Among the first creators to appear on the platform is Melbourne-based, award-winning sexologist Chantelle Otten, who confirms she's been "shadow banned for years," on social for sharing sex education content.
"I talk about sex and that is not okay in the world of Instagram and Facebook. I have had a lot of my photos reported, even though I was never showing anything explicit, just human bodies. And I will talk about being sex positive– and even though I'm a professional, this content was always deemed to be inappropriate," she shares.
Otten reveals the regulations on social media has forced her to limit the amount of work she can share, from images and information regarding sexual health and sexuality, to even the spelling of the word "sex".
Cue TikTok's proliferation of alternate phrases, including "seggs", "seks" and "secs".
The impact on her work has been paramount – rippling from her personal platform, which has been banned for up to 10 days at a time – to placing her company and income for over 20 staff members into flux.
What's worse, however, is the impact on the state of sex education to the public. With users predominantly leveraging as a space to fill the void of their sexual knowledge – a glaring oversight in the education system – Otten says anti-sex positive platforms have limited the access to accurate, and often comforting discourse around accurate information.
"I know that without this work, so many people wouldn't be able to get the help that they need and even get like a little bit of validation and normalisation around their sexual lives because else no one is really talking about it," she shares.
"A lot of people feel ostracised, isolated in their sexual self, because they were never taught that they were allowed to be sexual and they were allowed to adventurous in any way shape or form."
In the same breath creators reported being displaced from traditional apps, they unravelled the extent of abuse they suffered online – another focal point behind the creation of Sunroom.
With 65 per cent of women aged between 15 – 25 experiencing a "spectrum of online violence" according to Plan International, Sunroom foregoes public comments sections for "paid DMs" – where users can only discuss content directly with the creator behind the post, as a means to connect "more intimately, and positively", according to Mort.
In a world first, Sunroom introduced "Sunblock", an anti-screenshot technology, which preserves the ownership of every image, comment, private conversation and video shared on the platform.
The move, Sydney-based sex worker Tilly Lawless explains, combats a major rights violation many people in the profession face online.
"I don't think there should be any sex worker specific legislation in place on the internet, sex workers should have their rights upheld in the same way non sex workers have theirs upheld," Lawless shares.
"So for example, screen recording and reselling content is a huge issue Onlyfans creators face, however this is also a privacy invasion people in general face, which Sunroom is attempting to combat through their Sunblock feature."
Lawless points to the problems many sex workers have faced on prior apps – given the anti-sex positive stance they hold.
"I wish sex work was absolved of the sin people imagine it holds. I think given it's impossible to exist on social media without an account that's a big enough issue in itself," she says.
"Of course I could go into other issues that stem from being an out sex worker online – but if we're speaking only about online I think the precarity of any account/platform is enough."
Lawless previously wrote about the visceral class divide that occurred on OnlyFans – a platform that grew from 26 million users to over 50 within the first five months of the pandemic – which saw the app place a cap on pay-per-view rates, and reduced the income of thousands of legitimate sex workers in the process.
"It's the get-rich-quick myth of the modern age," Lawless wrote for The Guardian, adding, "while the success stories continue to proliferate, the success itself doesn't. OnlyFans has far more promise and less surety than a brothel shift."
The monetary contrast with Sunroom, she points out, stands apart from other apps for two reasons:
"They are not automatically anti sex work, so [it allows] sex workers to be public about their work and speak about it without he risk of their account being deleted and they have more transparency and right of reply when content isn't appropriate, rather than just deleting accounts with no recourse to finding out why or getting it back," she says.
While sunroom does not explicitly allow pornography, it does permit sex workers to link to their work on other sites, and does not limit the presence of nudity or sex-related content.
It's such a freedom of content that evokes the apps ultimate purpose: to create a shame-free, influencer economy with multiple means of generating revenue from the app.
Monetisation falls into three major tiers: subscriptions to accounts, payment for private DMs and paid "cheers" – similar to "likes" – for users to appreciate the posts of their favourite creators.
Mort says the monetisation move– which currently only allows women and non-binary creators – to leverage, was a way to combat the constant "judgement and stigma" they face when making money online.
Though women comprise the majority of the market economy, Mort notes, "we've made a payment system that doesn't make it feel super transactional."
"It's not about collaborating with brands or promoting products anymore, it's about creating really valuable content that your subscribers are willing to pay for."
Built on a basis of embracing authenticity and creativity, Sunroom, in tandem with its innovative features, slices through the red tape of social media and returns to the essence of what apps were originally created with in mind: connectivity.
The app is influenced by the "lived experience" of being a woman online – often synonymous with shame, abuse and torment. Battersby says such a knowledge inspired the "boundary pushing" plight of the platform, one that "probably a lot of men" simply weren't as passionate about."
For others though, it's reignited the joy of sex selling again – on our own terms.
"The fact that you can see nipples on Sunroom is just such a blessing," Otten says.
"I don't even blink when I see them. It's incredible.
___
SIDE-NOTE acknowledges the Eora people as the traditional custodians of the land on which this project was produced. We pay our respects to Elders past and present. We extend that respect to Aboriginal and Torres Strait Islander peoples reading this.