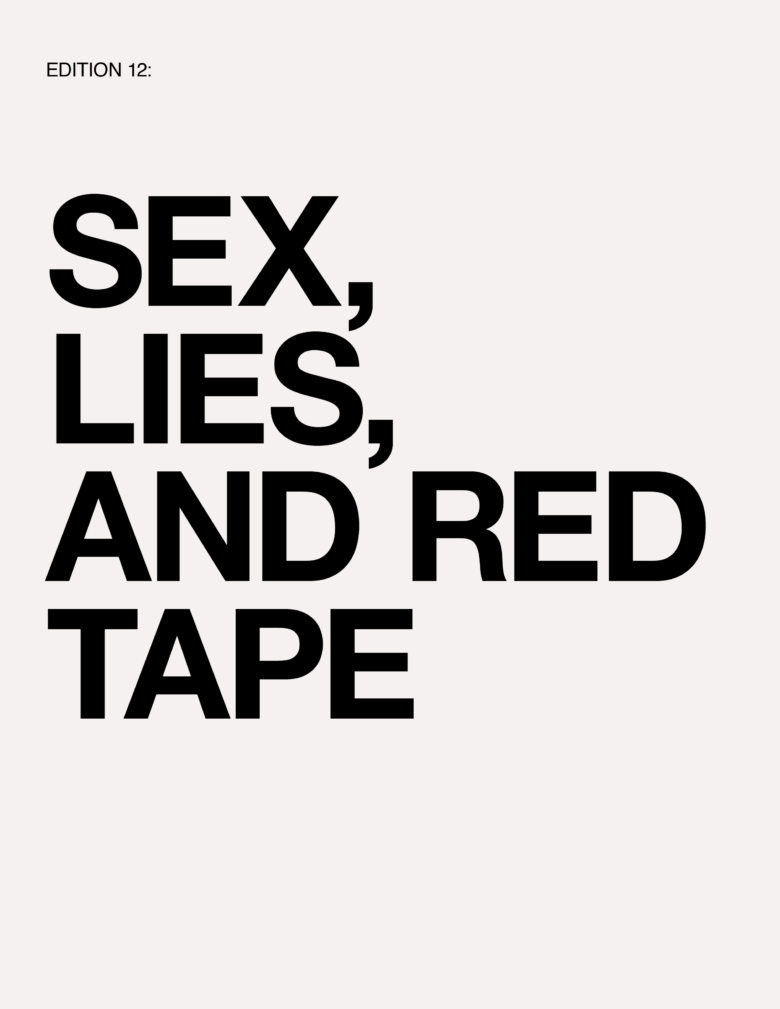 Discussions about the questionable ethics of tech companies feel at once totally compelling and mind-numbingly dull. Culturally, we seem to be unified in our vague consensus that "something needs to be done" about the small kabbal of badly dressed overlords who have come to control almost every aspect of our daily lives. But often the problem also feels so large, so insurmountable, and so out of our hands as individuals, that making any real sense of it becomes an anxiety-inducing act of navel-gazing. Not a particularly enjoyable pastime, in a moment so utterly filled with anxiety to begin with.
But even those with a heavy degree of Silicon Valley cynicism couldn't fully ignore Instagram's recent induction of quasi-puritanical new community guidelines, guidelines that seemed almost exclusively designed to drive sex workers and sex educators off the platform. Announced in December, the updates were, in theory, created to stop "sexual solicitation" from taking place on the app. But the chilling effect on the sex work, sex educator, and sexual wellness communities was immediate. Instagram users now aren't allowed to reference or link to their OnlyFans—a monetisable social media platform that gained mass popularity among sex workers during the pandemic—while also sharing sexually "suggestive" content on their feed.
Jem Wolfie, one of OnlyFans' biggest stars (2.7 million followers) and Riley Ried, one of the world's most famous porn performers, (10 million followers) have already had their Instagram accounts deactivated. And the knock-on effect will be huge. While OnlyFans is where many sex workers monetise their content, platforms like Instagram are where they initially build their fanbases. The relationship is symbiotic. In a period where sex workers' incomes have been disproportionately affected by the pandemic, this move by Instagram will ultimately undermine the earning possibility of thousands of far more vulnerable women, as well as further contributing to the stigma that surrounds sex work and the people who engage in it.
Liz Goldwyn, the filmmaker and artist who runs the sex education platform The Sex-Ed, has long felt the burn of Instagram's priggish approach to sex. "I'm personally now on my third account," she laughs, most recently having been reported for sharing a nude photograph taken by Harlem Renaissance photographer James Van Der Zee. "His work celebrated the beauty of Black women at a time where 'pin-up' culture was hugely whitewashed," Goldwyn says. "I mean, it's literally art, it sits in galleries around the world. For that to be considered "inappropriate" by Instagram's guidelines, while you have Kendall Jenner's ads for SKIMS promoted all over your feed… It just makes you question who is making these rules and who they serve."
Instagram was once the favoured platform for sex educators. "It was the place people could go for accurate, sex-positive, adult information," educator Gigi Engle told Vice in January. Under the new rules, however, references to erections, wetness, and masturbation constitute an immediate violation. As does, believe it or not, the use of the eggplant emoji. Educators are having to "tone down" the nature of their content by speaking in euphemisms, not including sexualised imagery on their feed, or needing to direct their audiences to external third party websites for the more 'explicit' educational content. Accounts that aren't deactivated are "shadow-banned" (removed from search visibility) and punished by the algorithm. Growth and engagement are down across the board.
"We aren't even allowed to advertise on Instagram because our name has 'sex' in it," says Goldwyn, who has been working with her team since December to think up creative ways to deliver educational content that won't upset the new guidelines. @TheSexEd has built a cult following of 85,000 for its frank, shame-free discussions of still culturally taboo topics like period sex, BDSM, and masturbation. But Goldwyn's approach is bigger picture than that, examining the cultural intersections between sex, art, spirituality, and death. Some of The Sex Ed's most popular posts have included guides to having safe sex during a pandemic and mindful orgasm techniques, and their interviews have included conversations with David Lynch about consciousness-raising meditation, and with Joey Soloway about the fluidity of gender identity.
It's difficult to believe that an account like this poses any kind of threat to the moral fabric of society, and is somewhat mind-boggling when one thinks of the many things we see daily on Instagram. Are the obviously Facetuned naked torsos of Victoria's Secret Angels better for society than Instagram tiles teaching women how to protect themselves from revenge porn? Are plastic surgery accounts normalising the expensive, painful, contorting of one's face to fit a white-washed beauty ideal preferable to education about the nuanced morality of kink culture? And why are models socially rewarded for monetising their sexual desirability, while sex workers are punished and shunned for doing the same thing?
"I had a conversation with a few other [sex educators] a couple of weeks ago, and people were asking 'How do we get around this?' And at this point I'm kind of just like fuck Instagram," says Goldwyn. "The success of platforms like Clubhouse shows that there is a real desire for alternative social network platforms that are not built on these systems. I think in the future there will be more niche platforms targeted to specific audiences, like a platform just for sex positive feminism."
This latest controversy is a timely reminder—and I, for one, seem to always need one—that the content we consume online isn't passively, dispassionately presented to us. It is informed, on every level, by the value system of its founders and designers, almost all of whom are variations on the same kind of American, white, cishet dude. Their value system, whether overtly or covertly, is baked into every element of the design process, and, as Liz Goldwyn says, "it's very, very difficult to reverse-engineer those design flaws once you've scaled to the level Instagram has." This is evident in the platform's seeming inability to seriously police or prevent the harassment of women, in its slowness in stopping proliferation of "fake news", and in its treatment of the sex industry in general. Silicon Valley has, many times, been called the 21st century's answer to the Wild West. Perhaps all we can do now is wait for the gold rush to dry up, and for the regulators to step in.
–
SIDE-NOTE acknowledges the Eora people as the traditional custodians of the land on which this project was produced. We pay our respects to Elders past and present. We extend that respect to Aboriginal and Torres Strait Islander peoples reading this.