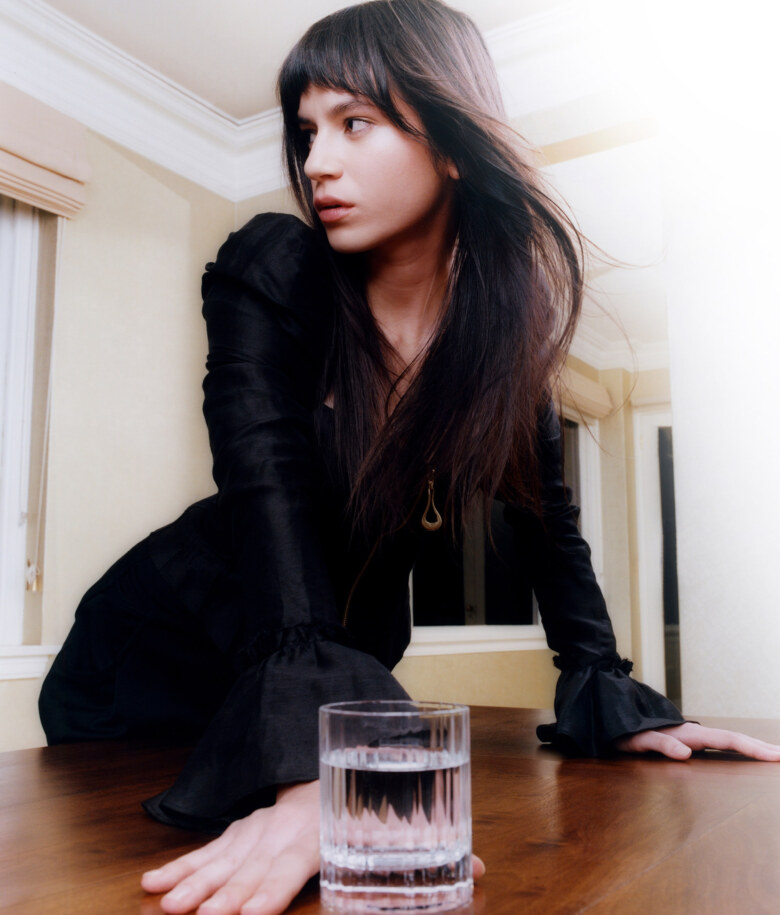 COME TOGETHER – A PROJECT WITH AJE BY LUKE SCHUETRUMPF
Inspired by the notion that the best creative pursuits are born from the melding of creative forces, nuanced with sentiments of opulence and eccentricity, Aje partners with SIDE-NOTE to honour 'Provenance' and the ritual of the dining table, a centrepiece for the meeting of minds.
To mark the launch of the Colombe d'Or inspired, Provenance collection, Karla Clarke catches up with co founders Adrian Norris and Edwina Forest.
Aje is 14 years old with 22 Aje stores and 9 Aje ATHLETICA stores, along with over 30 international retailers. Most people remember Aje as the store under Hugo's on Bayswater Road, but recently I learned of the brands beginnings in Noosa, can you tell us a little bit about those beginnings and what your vision was for the brand at the time, creatively and commercially?
Edwina: Having organically gravitated towards the creative from a young age, my interest in fashion was further solidified, post a journalism degree, by  working in magazines as a fashion stylist.
Adrian: Having lived between Noosa and Sydney growing up, I went to Venice shortly after finishing school to study the arts before moving back to Australia to open a boutique in Noosa, selling clothing by Australian designers.
Edwina: When Adrian and I met by kismet in Queensland,  we formed an instantaneous friendship through our creative connection, both having a love and appreciation for both fashion and art. Together, we sensed the need for a brand with versatility that bridged the divide between coastal and urban style. This spark developed into Aje — Adrian joins Edwina.  
What have been the biggest milestones and turning points ?
Adrian: Opening fashion week in 2019 was a significant milestone for us as a fashion house. With the Sydney Harbour Bridge and the Opera House as our backdrop, the show was an opportunity to begin setting the stage for international expansion while inspiring Australian customers at the heart of our brand.
Edwina: Our Resort 22 show, 'Scent of Summer', was a poignant milestone for the brand. One of the first in-person shows post-pandemic worldwide, it was the ultimate dreamscape in an ode to escapism and endless summers. Fashion is transportive and with the world having endured so much through the epidemic, the optimistic vibe of the show and collection resonated strongly in both hemispheres.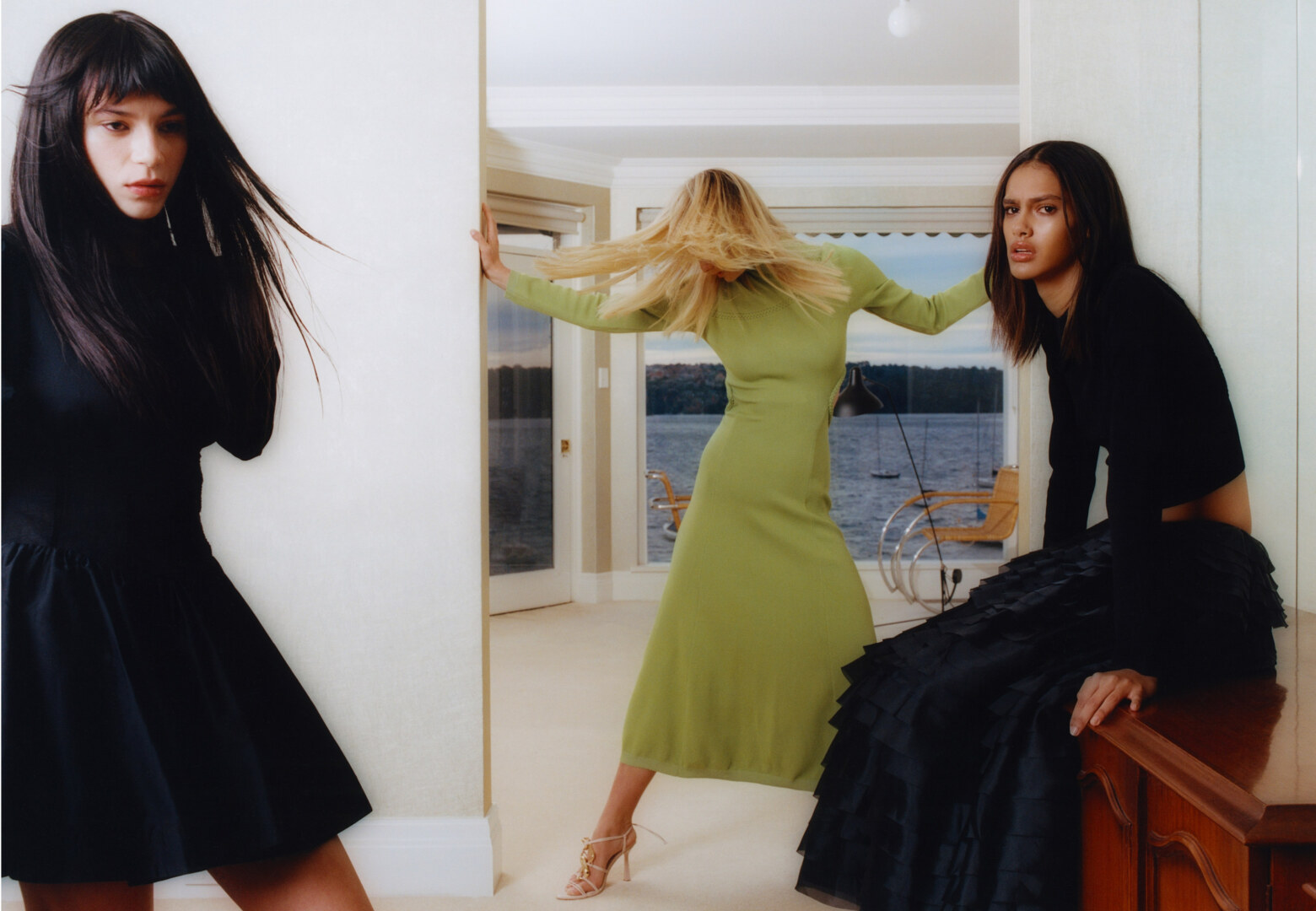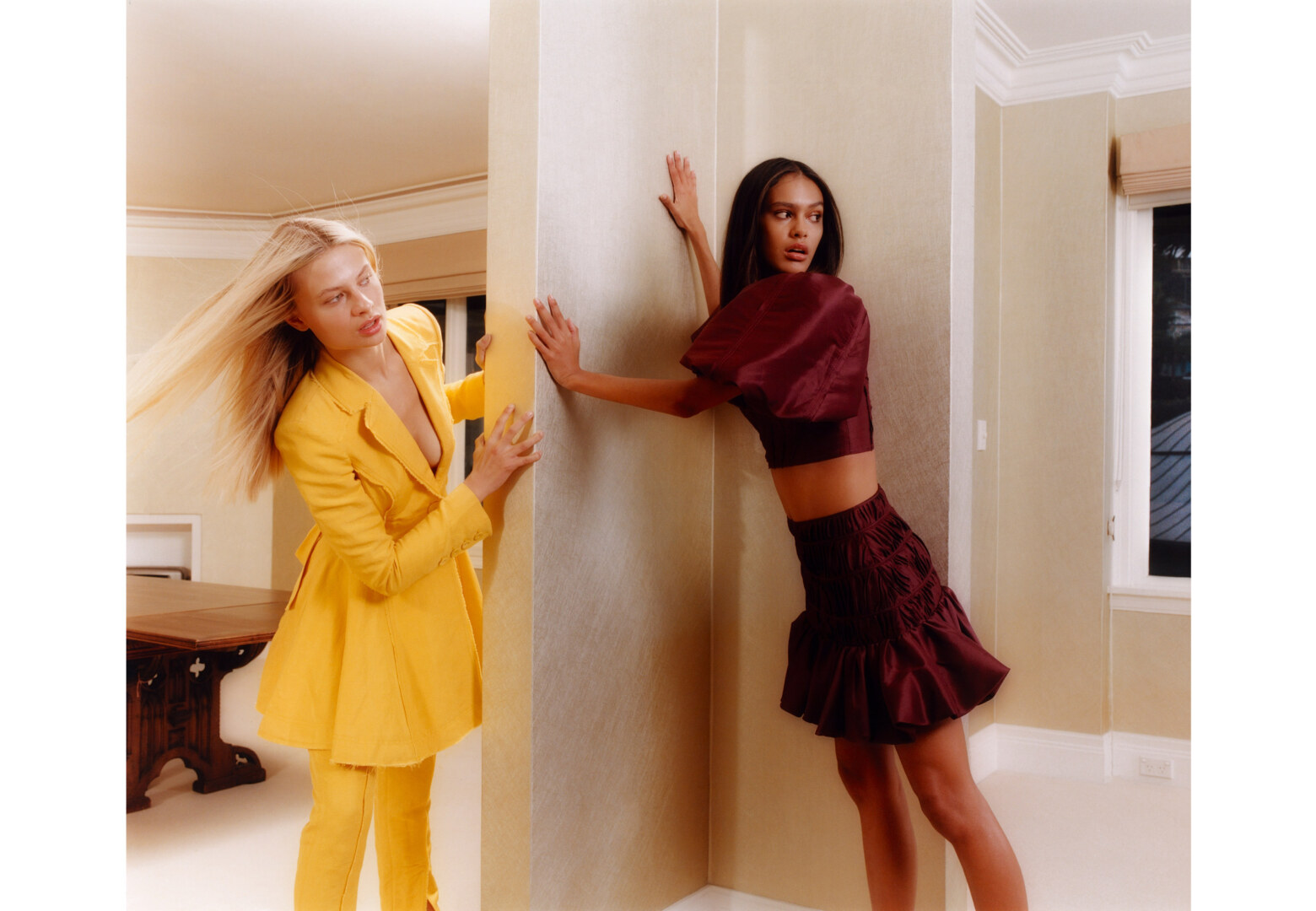 Like very few Australian brands, Aje has an unbridled allegiance of brand loyalists. Why do you think that is, and is that something you always sought?
Edwina: By continuously creating collections that are true to our core, we have developed a distinct identity, allowing our customer — the Aje woman — to form a meaningful connection with us and what we stand for over time. It's truly a relationship forged through consistency and authenticity, and remains at the heart of everything we do.
What is common among the Aje women ? How would you describe her style?
Edwina: The Aje woman has a considered eye and a curious spirit. She gravitates towards beauty in unexpected forms, with a vast appreciation for art, interiors, travel and the natural world, fusing their influences to inform her style.
When working on this project, we tried to visually emulate this idea of the Aje community, and how a shared aesthetic is celebrated among women of all ages, how do you maintain that and deepen that sense of community?
Adrian: Community is central at Aje, and we have a proud history of using the Aje platform to advocate for platforming the voices of minorities. Aje has strived to shine a light on causes that affect Australia, from droughts and bushfires on the land, to the rights of our First Nations peoples and the LGBTQIA+ community.
Aje has long recognised the importance of inclusion. Diversity is a vital and founding principle of the brand, woven into all Aje visual communications since inception, celebrating multicultural Australia. Whether it's in design details, immersive retail environments or uplifting women and their voices, we're always seeking to innovate and are continually learning from our community. 
Like the presence of Aje locally and abroad, your team has grown exponentially. It's nice to continue working with so many good people who I've worked with at other businesses. Can you tell me about the culture of Aje and what you look for in building a strong team ?
Adrian: Tenacity is key — working with people who you trust to courageously make strong, considered decisions. Our team places value on earning and attracting respect, striving for the extraordinary, acting with agility, honing our craft and acting with integrity always. 
Our current edition is themed IDEATE, what can you tell us about the genesis of the idea of each collection ?
Edwina: Inspiration can stem from anywhere and is boundless in its forms, although sometimes difficult to tap into when the pace of life is fast. It can come from the most simple and unexpected of places but innately needs to firstly move the soul, and secondly, needs to be able to be extrapolated into tangible and cohesive form.
In terms of your design process, how do you balance fashion trends with the Aje aesthetic? Do you look to the broader market, or do you hold course and stay true to your own path ?
Edwina: Over the past 14 years, we have developed a distinct handwriting that sits outside of trend by continually drawing from the pillars at the heart of the brand –  raw beauty, tough femininity and effortless cool. In effect, we tend to look within for inspiration rather than looking outside at that which others are doing. Sometimes this means you accidentally tap into the collective consciousness and end up on trend but it is never conscious or forced.  We also always ensure that a love for sculptural forms, drama and volume always comes through in our silhouettes, and that the detailing always feels artisanal and our prints are hand-painted  before being transposed into the  digital realm. This enables us to keep a strong sense of authenticity and integrity in every creation.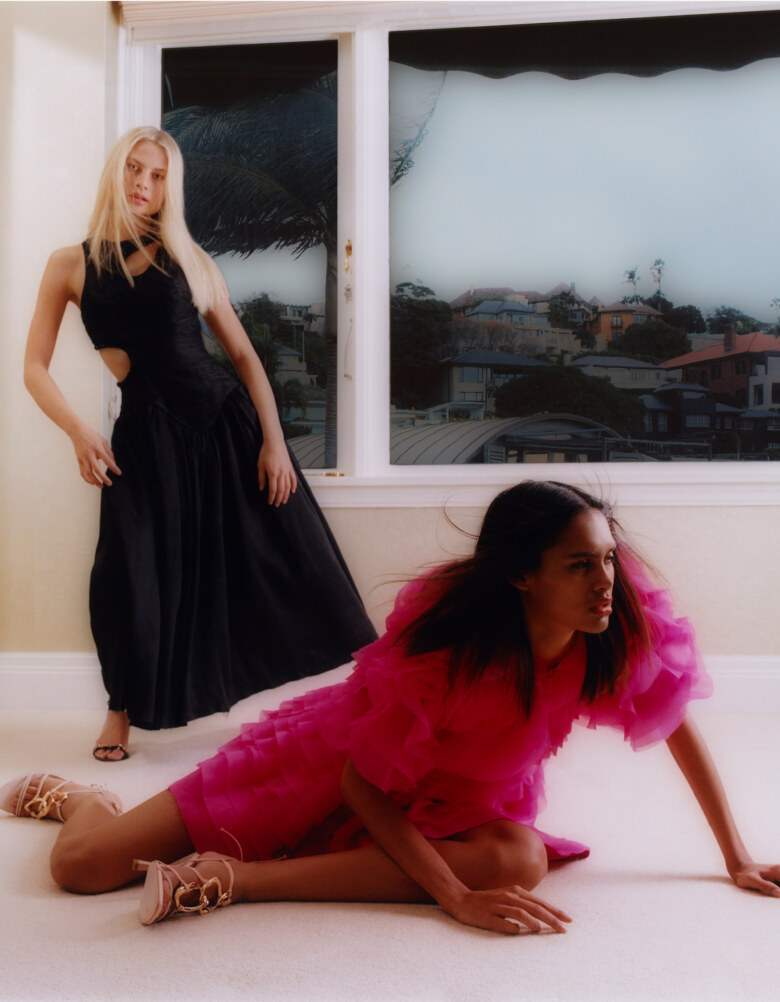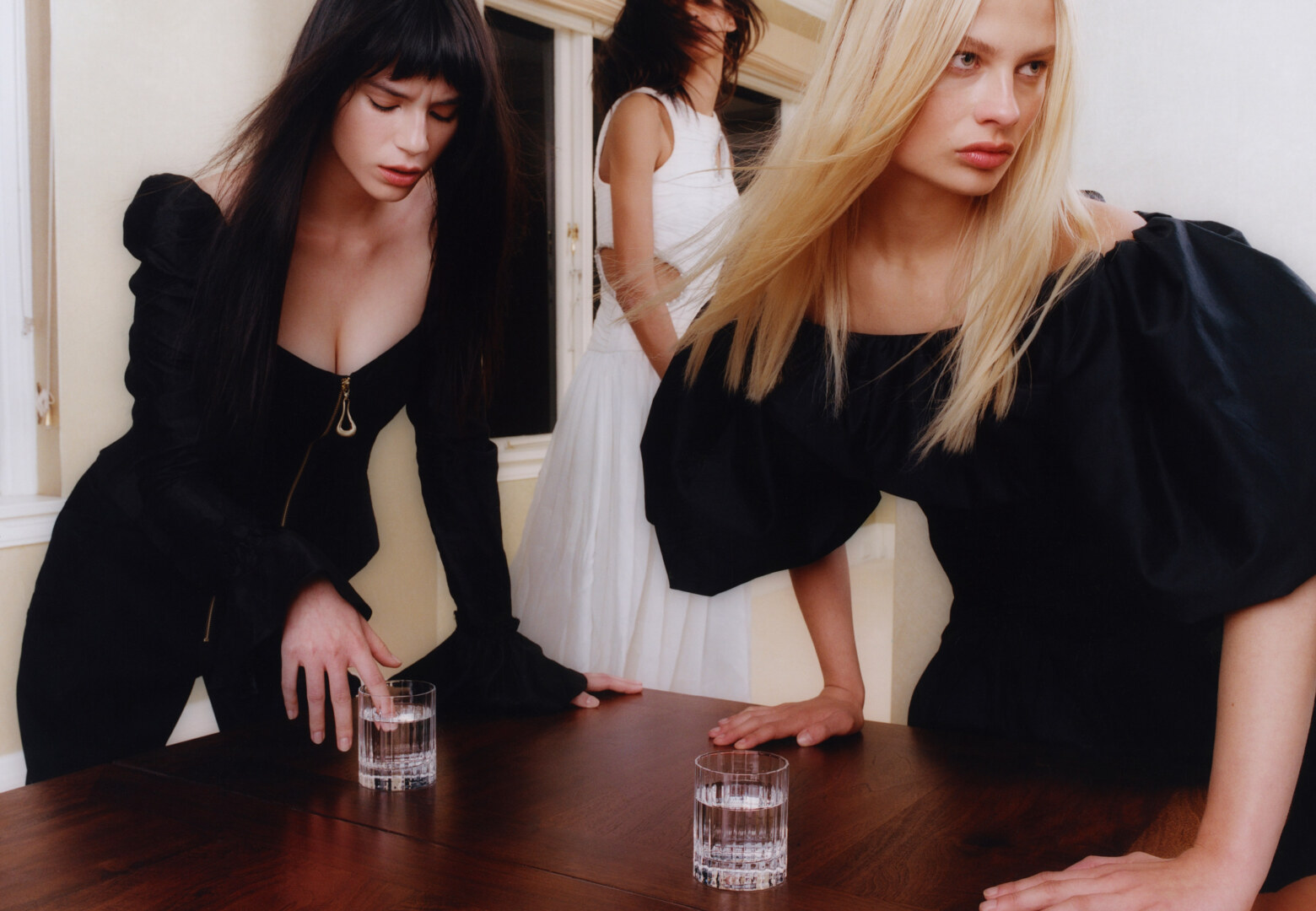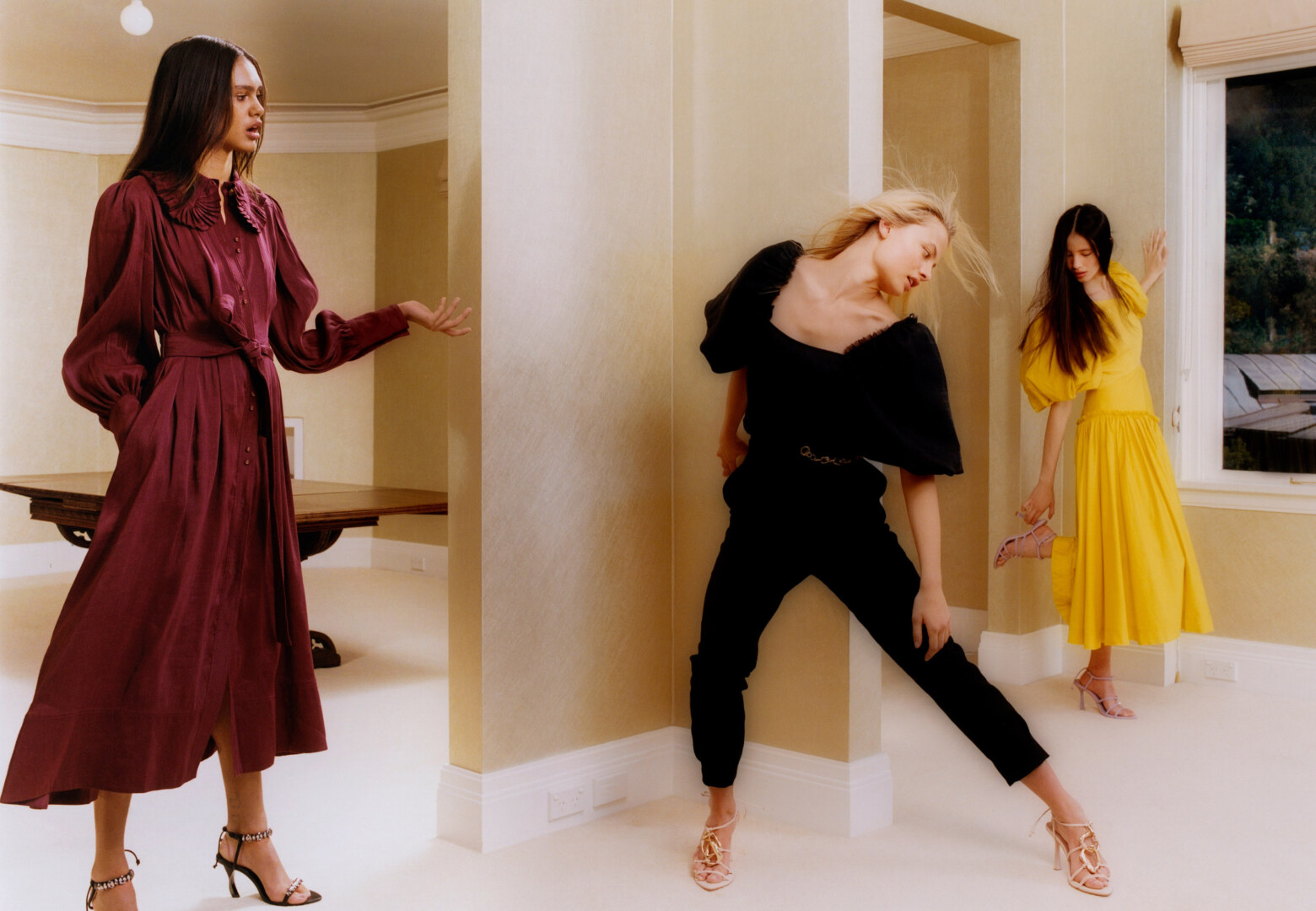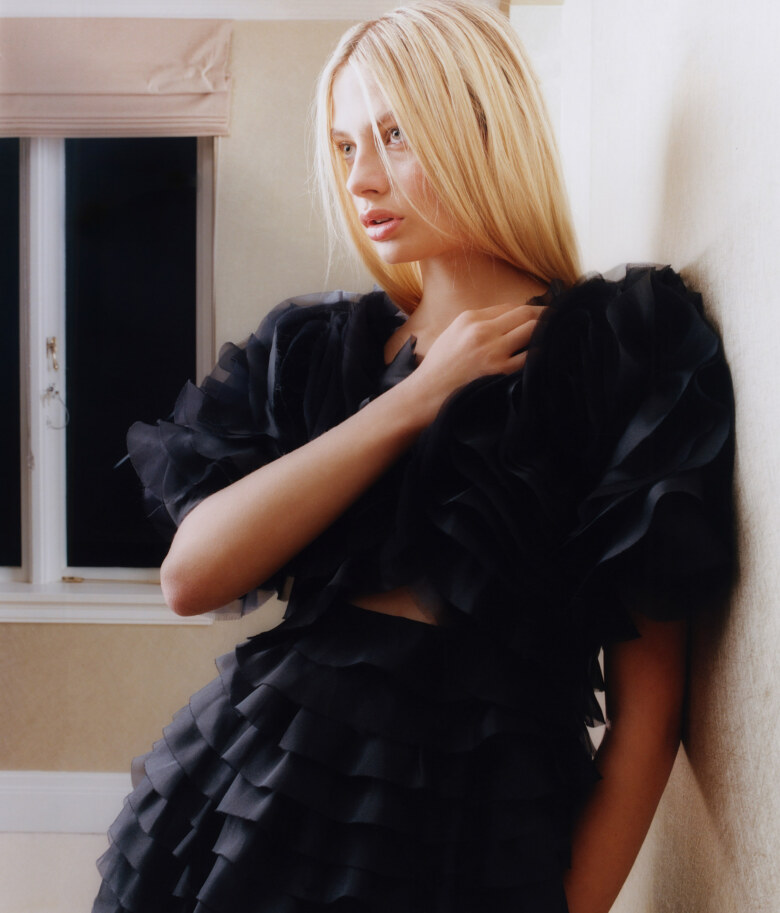 How important is an Australian aesthetic in international markets, and how would you describe what that is ?
Edwina: Australian style comes from the unique spirit of our country and the people who inhabit it.  As a brand, we are fiercely proud to be Australian, consistently drawing inspiration from the diverse landscapes and pared-back lifestyle this beautiful country of ours offers. Both elements have deeply informed our design code – one of strength, freedom, adventure, drama, versatility and effortlessness. 
Adrian: To survive in this industry and fashion landscape, it's integral to have a point of difference. As an Australian brand with an established visual code, we have a key point of difference that is attractive for international markets, as we show clothing and ideas of an international standard that women want to wear.
How closely do you work with each other, how would you describe his/her approach as different to your own, and how do you compliment each other ?
Adrian: Early on, we promised each other to be as honest and forthcoming as possible. Our different perspectives are our strength, and ultimately while there may be creative tension at times, we have found and finessed a fine balance in our 14 years of partnership. 
How important is sustainability and what practices have you implemented that have set the business on the right path ?
Adrian: At Aje, we continue to work towards the adoption of the best sustainable practices in the industry. Through Aje Aware, we are continuing to challenge one another to think about how we can make our products more sustainable. Innovation initiatives are a focus from the time our products and designs are conceptualised, with special emphasis on the search for and continuous development of new raw materials and more sustainable fibres. Within production, we are committed to the development of innovative practices and new solutions to achieve the goal of eliminating the waste we produce, both during production and post-consumption. 
We recognise that sustainability is a journey that requires commitment and ongoing investment, with our team focused on driving values-based and sustainable business practices.
What does growth look like for you and Adrian ? Are there goals you are working towards that you've not yet achieved ?
Adrian: The last two years have provided us the unique opportunity to expand our vision and plan for the future expansion across the business. We now have 23 Aje boutiques and 11 Aje ATHLETICA stores throughout Australia and a website that services over 77 countries — alongside being stocked in the world's leading fashion majors including: Galeries Lafayette, Lane Crawford, Saks, Matches and Browns. It has been an incredible period of growth for the business, and we've only just begun. 
Just last week, I was proud to see an Aje dress in the window of Kirna Zabette in New York. Are international stores on the horizon and if so what markets are you most interested in ?
Edwina: We're honoured to be represented in some of the world's leading department stores and fashion retailers. Currently, we are in the midst of enhancing our international presence, with a specific focus on opportunities arising in the US, UK and Europe. 
What would you like the Aje legacy to be ?
Edwina: To have inspired and uplifted Aje women everywhere through our pieces. And in a grander sense, to have done so while minimising our impact on earth. Beyond all the clothes and the collections, we want our legacy to be one of meaningful contribution to the communities in which we live and work, leaving a positive impact on the world in our wake.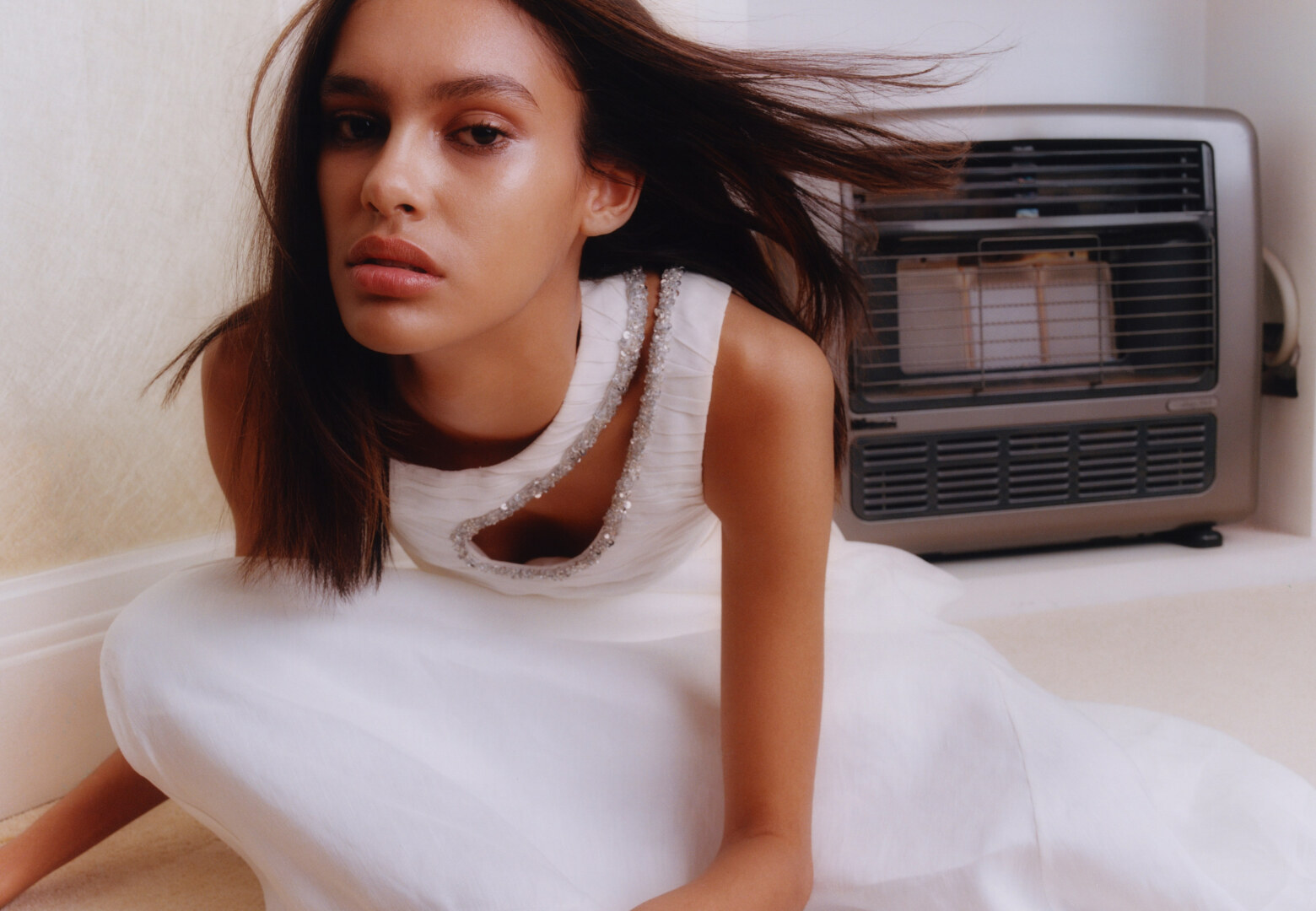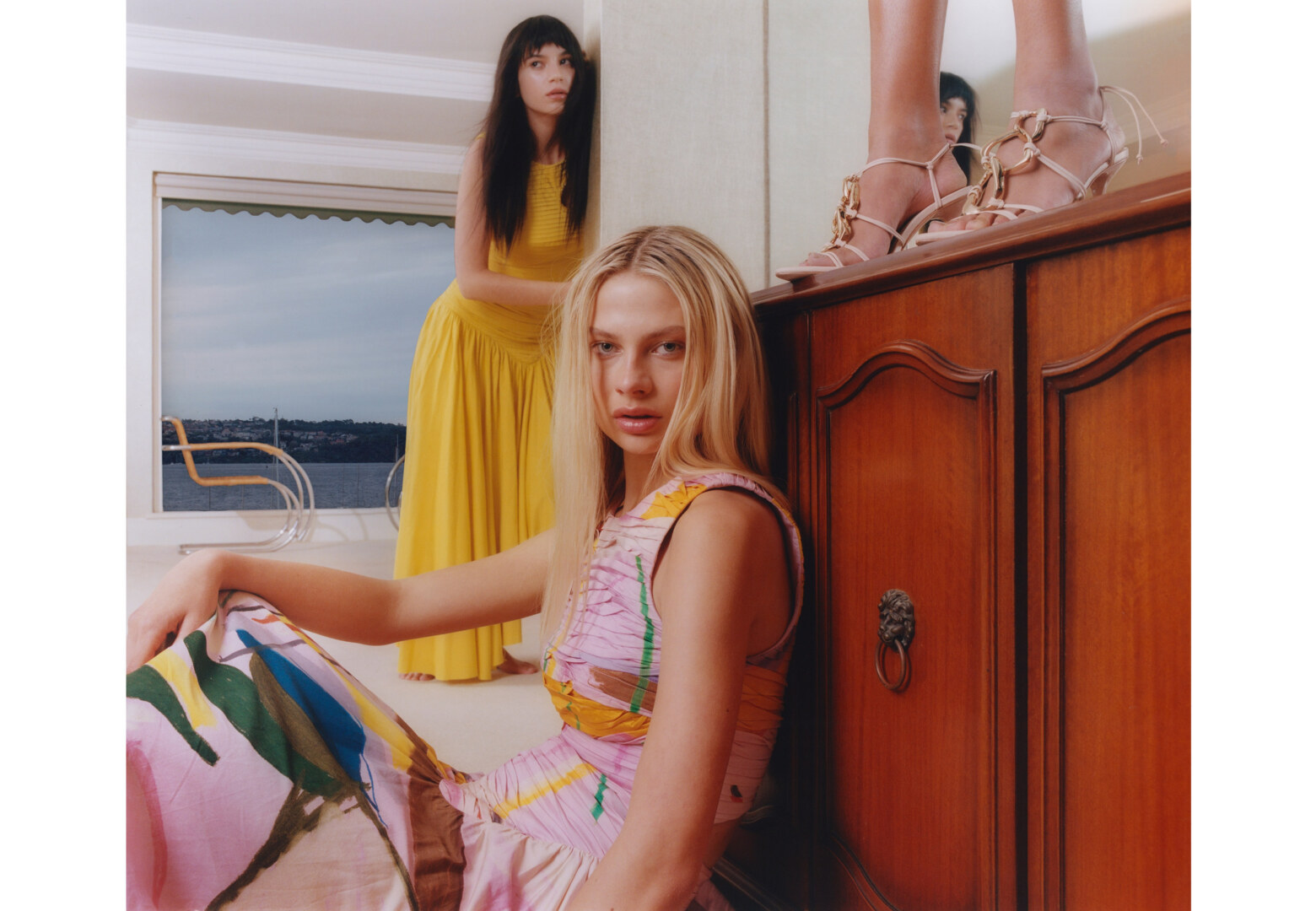 ___
SIDE-NOTE acknowledges the Eora people as the traditional custodians of the land on which this project was produced. We pay our respects to Elders past and present. We extend that respect to Aboriginal and Torres Strait Islander peoples reading this.