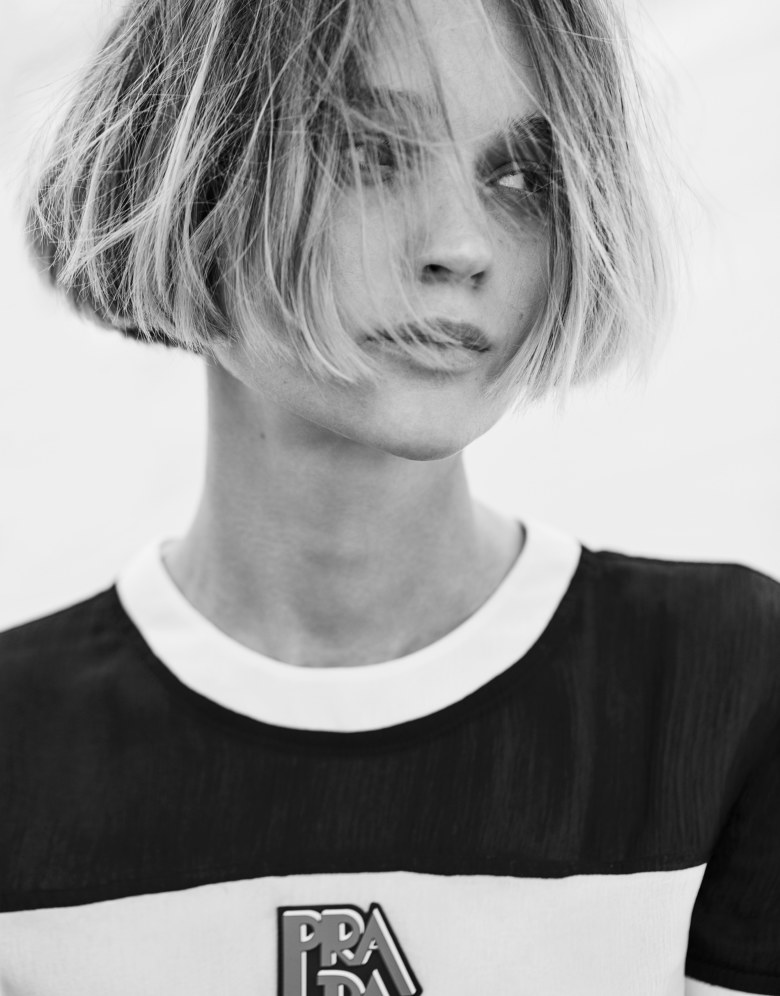 THE CHOP BY NICOLE BENTLEY
PHOTOGRAPHER: Nicola Bentley @ M.A.P
STYLIST: Karla Clarke
TALENT: Rosie Tupper @ IMG
HAIR: Koh @ Viviens Creative
MAKEUP: Victoria Baron @ M.A.P
PHOTOGRAPHIC ASSITANTS: Peter Van Alphen, Ty David
FASHION ASSISTANT: Aubree Smith
DESIGN: Stephanie Huxley
WRITTEN BY: Tatiana Farley
The saying goes that fortune favours the brave, and in the case of the fashion industry, truer words were never spoken. In an era where disrupters reign supreme, similarly the public gaze rewards these women for going rogue by turning their look on its head. Models like Anja Rubik, Freja Beha Erichson and Charlee Fraser are all testament to the wonders an intrepid snip can yield. For these women whose looks are their livelihood, an audacious chop has repeatedly played catalyst to unchartered career opportunities and, for some, even personal growth.
For most of us there's something confronting, liberating and downright terrifying about a sudden, clean change. You can't just ease yourself into the unknown, oh, hell no, it's abrupt, rigid and non-refundable. Model Rosie Tupper whose probing stare and tousled fresh-from-bed hair have mesmerised the masses for over a decade knows all about adjustments that come hard and fast. Since the arrival of her daughter Mozes a few months ago this model has turned mother. No matter what your measurements are, motherhood is a doozy, and a turning point that inevitably reshapes life as you knew it. Leaping before she looked knowing she was safe in the trusted hands of hairstylist Koh and longtime friend and photographer, Nicole Bentley, Tupper made the call to reimagine her aesthetic so as to anoint her new direction. Bentley whose shtick lies in her unique ability to capture both beautiful and believable moments seemed a natural choice for Tupper to unveil her fresh self for the first time. An edgy style that still manages a soft femininity, Tupper's new 'do lends itself to a spectrum of possibilities; from tomboy tough to old world romance, "bring it on" it seems to say.
Even beyond the industry, breakups, shake ups and breakdowns often spur a woman into action. Giving oneself an emblem for change is itself self-fulfilling; for this outward expression of one's inward compass seems just the nudge we need to embrace new destinations.