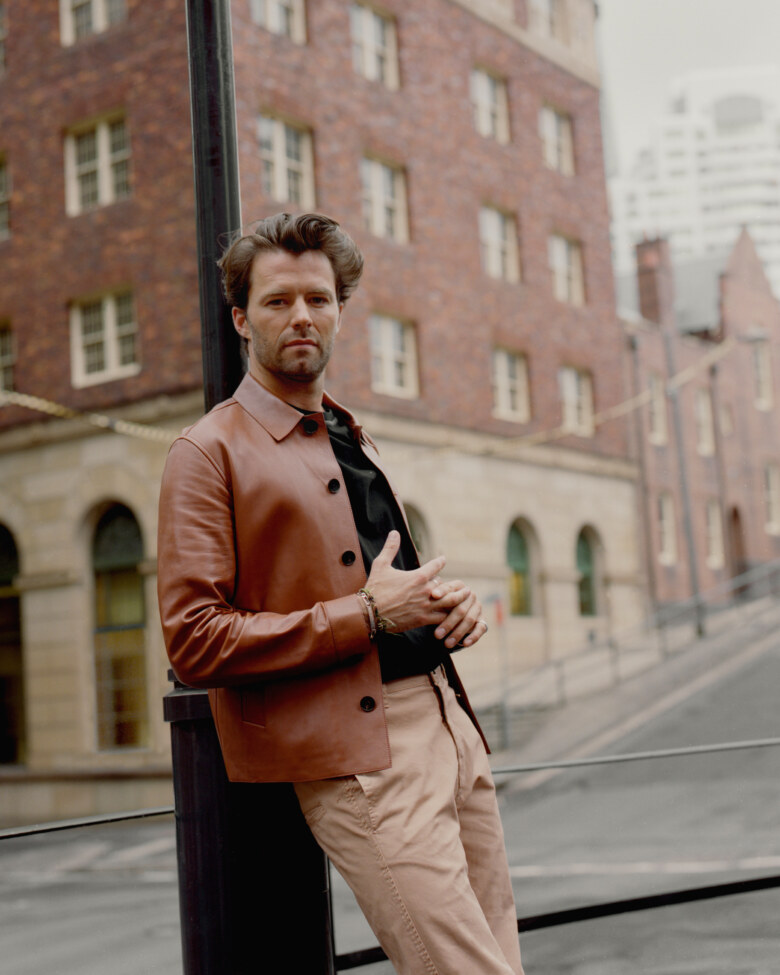 PEOPLE OF NOTE: THOMAS COCQUEREL BY MICHAEL BRUNT AND BIANCA FARMAKIS
From the Golden Age to the Silver Screen, film and television has long afforded us an escape from our realities. And in a time where the world we know has dramatically altered, it's no surprise period drama The Gilded Age has found space to flourish in the endeavour of escapism.
The American retrospective, crafted by Julian Fellowes and the minds behind Downtown Abbey, tracts the intersecting lives of the elite during the boom years of 1880s New York City. Boasting a star-studded cast among the likes of Cynthia Nixon, Louisa Jacobson and Taissa Farmiga, is a familiar homegrown face, Thomas Cocquerel.
Cocquerel, who portrays the dapper lawyer Tom Raikes, a man destined to balance love with morality, all while welcoming the bustling, vivacious landscape of a youthful New York city, confirms, forthright, "the pandemic world is way more weird" than the 19th century context of the show.
And yet, there are similarities: the Gilded Age world navigates a period of immense economic change and brutalising conflict between old and new systems. Only somewhere between acting as a character enmeshed in a social war, does Cocquerel identify the enduring nature of human resilience when faced with a world perpetually on the brink of the (next) modern age.
Sporting surgical masks over three piece suits and top hats on set for the better half of 2020 saw co-stars unable to see each other's faces while rehearsing. Cocquerel says he found solace in filming for The Gilded Age in the "importance of chemistry offset and camaraderie onset."
"It was a very difficult to work with so many new actors but not be able to take our masks off until the cameras were rolling. We weren't seeing each other's faces for most of the day until we were actually rolling and then we had to adjust instantly – it was definitely a different experience," he shares.
The actor, who grew up between Paris, Texas and Sydney, cemented his space in the world of Indie film darlings, previously staring alongside Anna Kendrick in Table 19, Jennifer Garner in Tribes of Palos Verdes and Taron Egerton in Billionaire Boys Club – to name a few – Cocquerel's refined both his performance and preparation for characters on a global scale. That was until, he says, he had to "time travel" for his latest project. 
"Before we started rehearsing, we actually had etiquette classes," he shares, listing the slew of lessons he was subject to, including learning how to walk with a cane, sit for dinner – and rigorous hat tipping instructions.
"We went into rehearsals to understand the time period, the context in order to make these characters relatable and accessible to a modern audience."
While conversations about the industrial revolution, and the affairs of famed railroad tycoons seem far from the public consciousness in today's context, Cocquerel's character, Tom evokes among the most resonant journeys of them all: falling in love. And in his case, rather quickly.
"It was a very intimate storyline, you know, he is flirting and he is in love. It was all there," Cocquerel shares.
His love story with Marian Brook (Jacobson) thrust Cocquerel into a dating sphere that's a far cry from the current climate of swipe-rights and Hinge dates.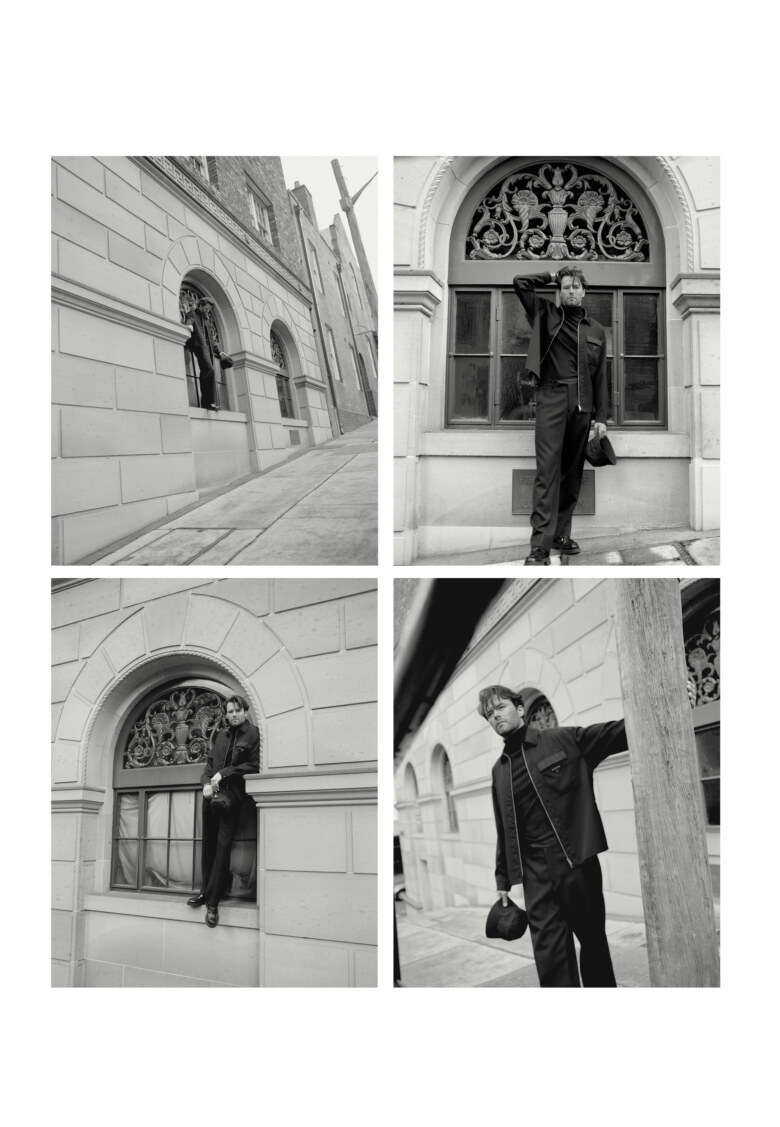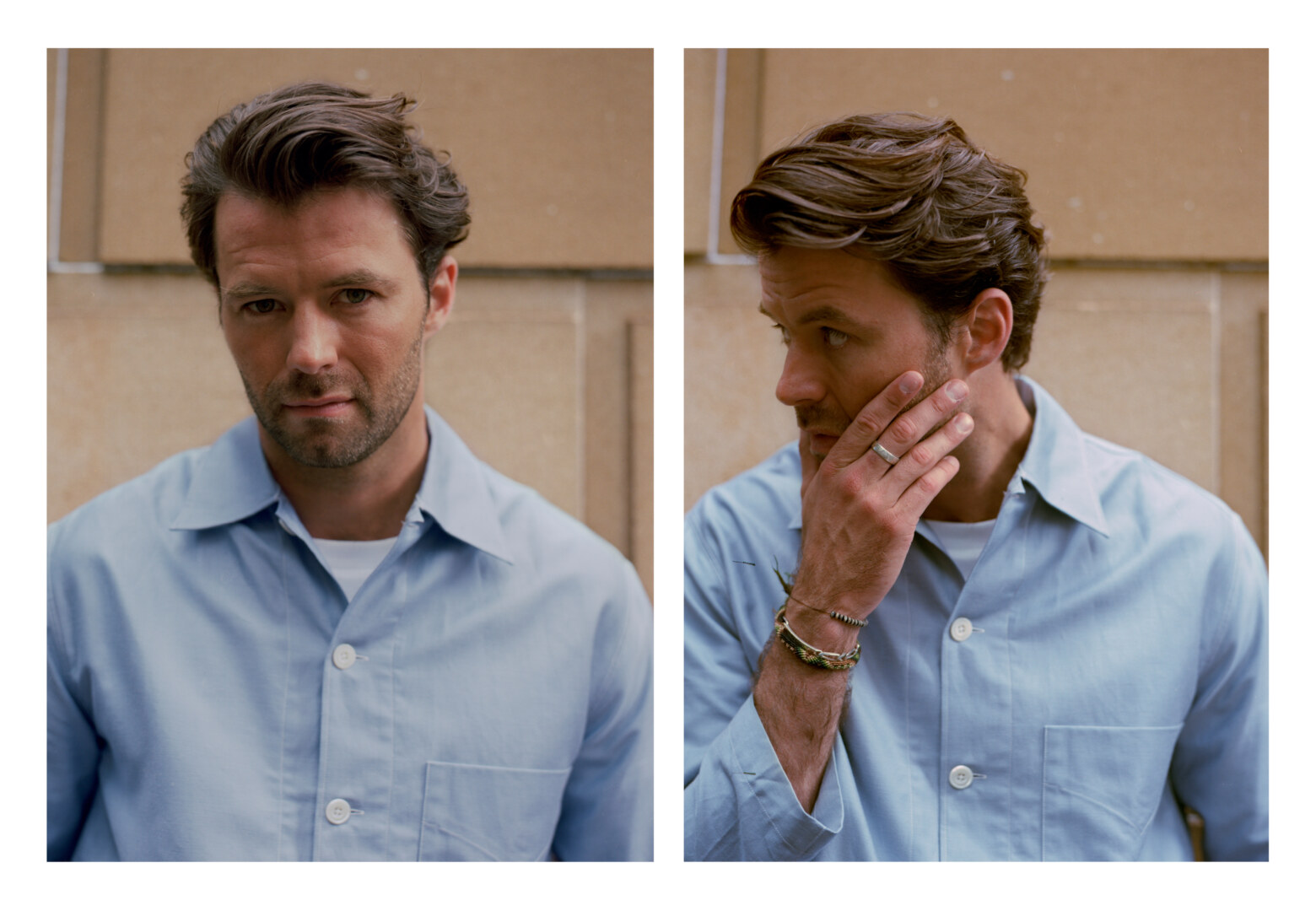 Common first date questions of the 21st century – like "you up?" – were traded in for Cocquerel understanding what it meant to take off a glove to kiss a hand, what was considered appropriate "eye contact" in a public space – and what it meant to have a chaperone accompany you during a romantic encounter.
"It definitely wasn't like dating today, I mean, at all. I had to kind of break down each moment and try to understand [my character] better to know what limits he could push and what was appropriate in terms of falling in love back in the '80s… 1880s," he laughs.
Draped in three piece suits, top hats, decadent watches and shoes that required upwards of half an hour to fasten each day on set, Cocquerel's immersion in the Gilded Age world adopted an unprecedented physicality for the actor. As a self-professed appreciator of a "good suit", lead costume designer Kasia Walicka-Maimone's work offered its own realm of challenges.
"It was one of the biggest joys coming to this job every day. It was just the detail and the craftsmanship in the costume," he shares. "The time and care that goes into it and the weight! It really affects how you move and how you walk, it informs what it would have been like back in those days."
Cocquerel, who has previously worked with luxury brands like Louis Vuitton, Christian Dior and Polo Ralph Lauren is no stranger to fashion. In another life, he envisions what Tom Raikes would wear:
BF: Would Tom be a Louis Vuitton or Dior man?
TC: "Tom Ford."
BF: Great answer.
The NIDA alumni, who landed his first role alongside Anthony Hopkins in Kidnapping Mr Heineken nine months out from graduating, does not shy away from the volatility that underpins an acting career.
Despite his meteoric rise and onscreen achievements in the midst of the most difficult times, Cocquerel admits the uncertainty of acting work remains "really daunting."
"There can be a few months of just nothing and that's where you have to go back to why you're doing it," he shares.
"I think that's when you remember it's not really about yourself, but about wanting to tell good stories. I love the power of storytelling and I just want to be a part of it."
Such a self-reflexivity informs Cocquerel's downtime practices, often spent in one of the countries he's called home over his lifetime – down under.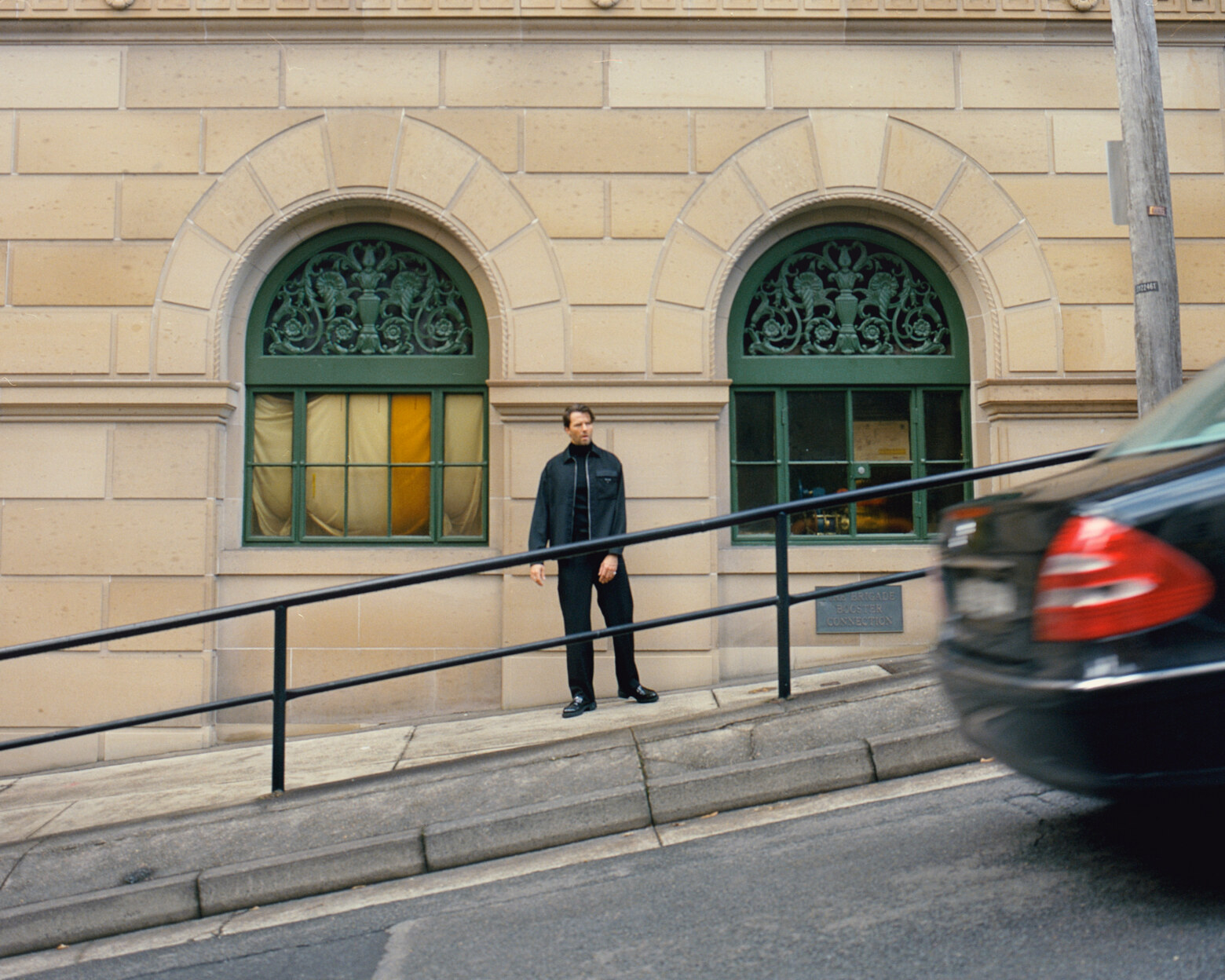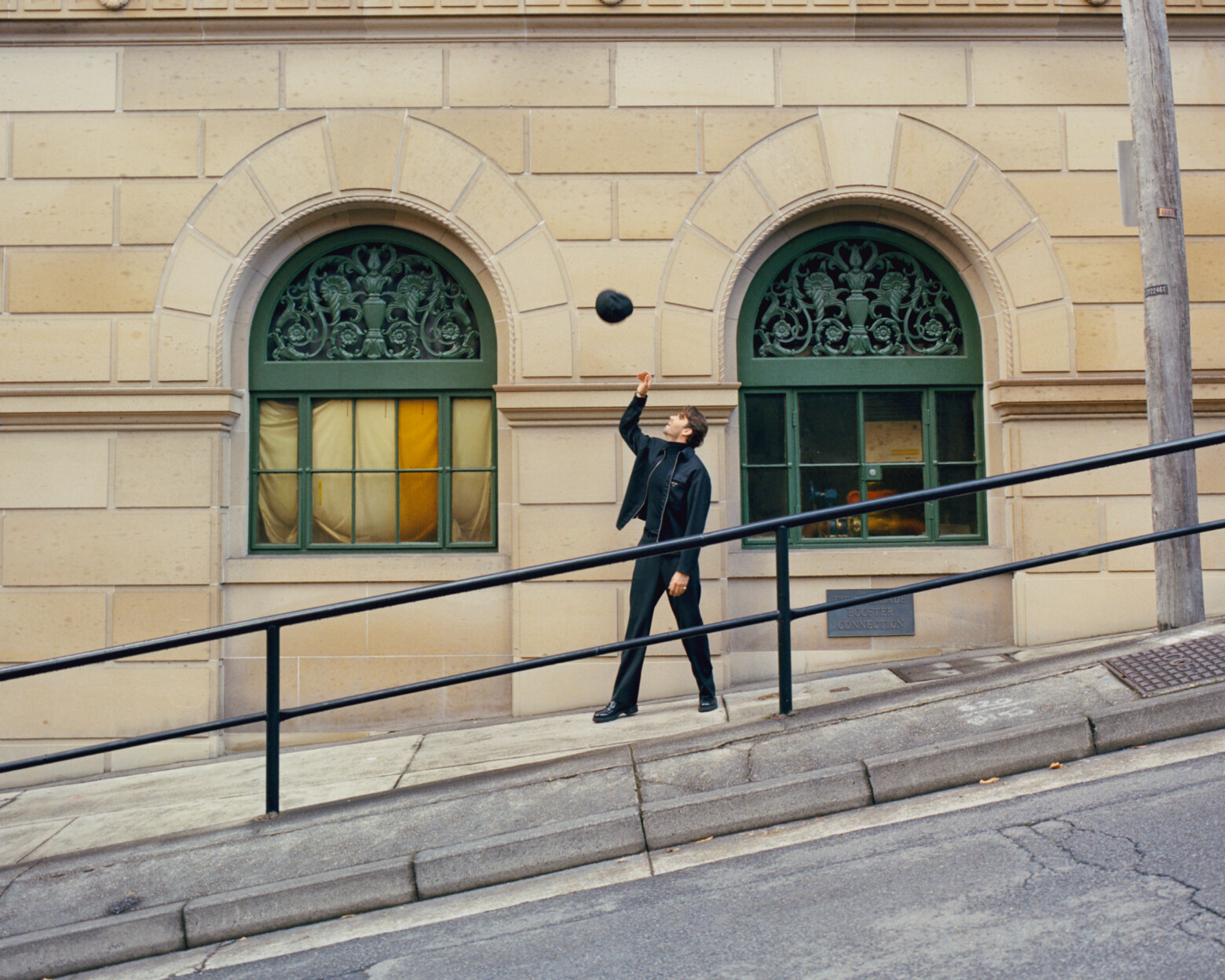 A lover of the natural world, between camping and surfing, fleeting moments of stillness in Cocquerel's career push him to other pursuits. Recently directing his first short film Un Homme et Un Chat, the actor remains "thankful for those quiet moments" to flex new muscles within the industry and pursue his passion for storytelling.
When asked where the passion first manifested, Cocquerel's nomadic childhood is a poignant starting point. Growing up across Australia, Western France and Texas, he was educated in a French school – his father's heritage – while in Houston, and spent seven years in the French school system.
"I was good at picking up languages and changing accents," he reflects.
"Pretending I was a cowboy one minute and a little French Persian boy the next was how I grew up. So the acting thing – it makes sense," Cocquerel explains.
"It certainly goes into why I went into acting – I think growing up and having to change countries and languages so often, you always had to adapt to new cultures and morph and transform. That's part of the game."
It's such an adaptability, that could make a French-Australian actor adopt a New York accent and swan so comfortably into a world that existed two centuries before he was born.
BF: Final question for you. Are you ready?
TC: "Yo, hit me."
BF: Is it easier to play a character with your actual name?
TC: "I feel like he's cheating. And I feel like people probably think that I'm not that good an actor because I needed one with my own name to do it."
Still, as far as signs go and destiny is concerned, Cocquerel maintains playing Tom, "just felt right".
____
SIDE-NOTE acknowledges the Eora people as the traditional custodians of the land on which this project was produced. We pay our respects to Elders past and present. We extend that respect to Aboriginal and Torres Strait Islander peoples reading this.